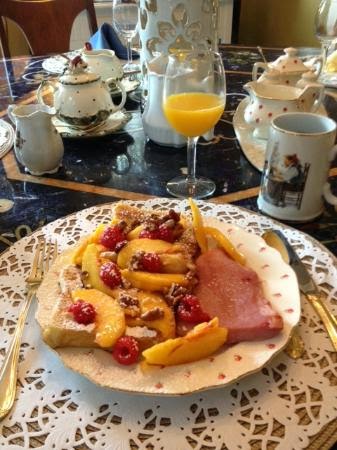 Thanksgiving is almost upon us and Christmas will soon be a pleasant memory. Time to plan for the shiny new year! 2015 promises to be a year of changes and opportunity, and what better way to start it off than a stay at Angel Welcome Bed and Breakfast? You'll love our comfortable, uniquely decorated guest rooms, with the intriguing names of Faith, Hope and Love. Judy puts on a breakfast that you will not forget, with several home-made courses, served at a table with candles and china! The conversation at table with the other guests is fun and informative. Get ready to learn everything about Milan and the surrounding area!
You can stay tucked up in your room for the big New Year's Eve or go out on the town to celebrate. Close by the inn, Timbers Smokehouse & Grill, partnering with The Milan Wine Post, is putting on a New Year's Eve dinner buffet at One Main Street. You'll get your fill with Prime Rib, Crab Legs , Tenderloin Medallions with Shitake Mushroom Sauce, Tilapia, Brisket , Chicken Marsala and much more!
You can head up to Sandusky for Northern Lights & Winter Brights, at the Sandusky Bay Pavilion. Through January 3, 2015, wonder at the festive light display outside the Sandusky Bay Pavilion and the Maritime Museum.
Of course, we can't forget the "Walleye Madness at Midnight" in nearby Port Clinton. Bundle up well and head to downtown to view the annual dropping of a 20-foot, 600-pound walleye at the stroke of Midnight, along with fireworks and celebrations from a huge crowd!
No matter how you spend New Year's Eve, we at Angel Welcome Bed and Breakfast wish you bounteous blessings for 2015!