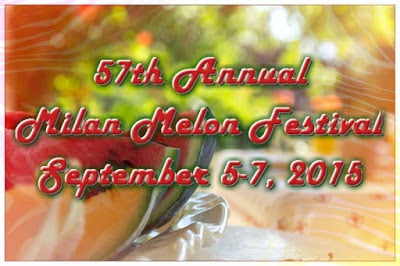 The biggest event of the year is coming soon! In a little more than two months, the Milan Melon Festival once again returns to Ohio to charm visitors for the 57th year in a row! The Melon Fest is a beloved tradition in Northern Ohio which attracts thousands of visitors to our charming home town each year.
The festival is mostly held in the beautiful town square, but often crafts are found in Town Hall, with races and competitions all around the square. The fest starts Saturday, Sept. 5th, with rides, crafts, and of course, concessions. Being Ohio, you'll love the offerings of noodles, cabbage, pierogi, brats, fresh roasted ears of corn and more. The biggest draw as far as food goes is the famous Watermelon Sherbet and Cantaloupe Ice Cream. Try a scoop of each in a bowl or cone. Of course, if you are from the MidWest, you will probably be more familiar with the cantaloupe's appellation, Muskmelon. At the Toft's counter, you can get cantaloupe ice cream in a half-cantaloupe! What's not to love?
All through the weekend, you can enjoy fabulous home-grown fun like the Milan Melon Festival Queen Contest, held Saturday evening at 5:30, sponsored by the American Legion. Don't miss the Hot Wheel race, the 5K race, One Mile Race, the Beautiful Baby contest, live music and some very exciting news – the Car Show is back this year! You'll see hot rods, classic cars, street racers, and antiques. The car show will be on the A field across from the elementary school on Rte 601, on Sunday starting at 9am.
Sunday saves the best for last- the parade, which has attracted crowds of up to 100,000, will be held Sunday, September 6, 2015 at 2:00 P.M and will run mostly up Main Street. Get there early to claim a good spot to watch the high school marching band, majorettes, cheerleaders, and a lot of fun floats put together by different groups in the community.
Make your reservations now to join us for the best little homegrown festival in Northern Ohio!