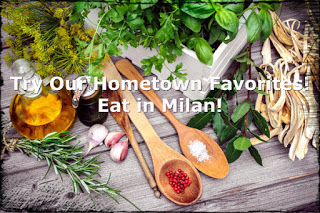 If you staay with us at Angel Welcome Bed and Breakfast, you won't leave the table hungry in the morning. Judy's home-made, delicious multi-course breakfasts will fill you up at least until lunchtime!
What about when you're exploring our little town, or returning from an excursion? Milan offers some very good places to eat, with different types of cuisine. No need to travel to another town, you can have a great lunch or dinner right here in Edison's birthplace!
If it's tavern fare that interests you, try the Wonder Bar, right on the town square. Don't be fooled, this isn't just a place to take in a libation, the food is great! The menu is varied, with fresh fried perch, well-regarded steakburgers, wings, sandwiches and delicious hand-cut french fries. You can try several craft beers, a full bar and wine selection. There is live music some nights, as well as a DJ to dance the night away. The Wonder Bar is open 11am to 1am.
Another great place to try is Invention Restaurant, named in honor of Milan's famous son, Thomas Edison. Try fresh fish, pancakes of all types, stuffed green peppers, pot roast and daily specials featuring wonderful MidWestern recipes. Don't miss the hand-made, flaky-crusted pies! Invention Restaurant is open Tuesday thru Saturday from 6am to 2pm.
A very special evening will be had at The Culinary Vegetable Institute. This is a special spot. They aren't a restaurant, and you must reserve your spot by purchasing tickets for their culinary events. The food is truly "farm to table" and is prepared by expert chefs. You will not only savor a fantastic meal, but also learn about the food you are eating. Make sure to check their website for details on events and tickets.
Pizza is always a treat, and Milan won't disappoint. Jim's Pizza Box is on the town square. They offer pizza, calzones, wings, subs, even home-made soup! Jim's the the number one rated restaurant for Milan on Tripadvisor. The sauce is made fresh, the toppings are plentiful and the employees are friendly.
Staying in Milan is a great way to enjoy a laid-back, fun vacation without running yourself ragged and waiting on line for attractions. Stay with us at Angel Welcome Bed and Breakfast and enjoy our wonderful locally-owned restaurants!