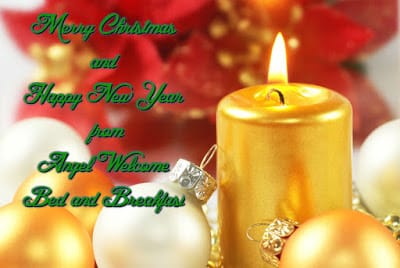 Our last post was all about holiday doings in the area, and that continues today! In this part of Ohio,
we take our winter merriment seriously, with fine events happening almost every day of December and into January! Angel Welcome Bed and Breakfast wants to be your home base for these great events!
Firelands Symphony presents Family Holiday Pops on Sunday December 13, 2015 at 4:00pm at the Sandusky State Theatre, featuring vocalist Helen Welch, performing all of your favorite holiday hits. Also at the Sandusky State Theatre, a presentation of Irving Berlin's White Christmas. Based on the beloved, timeless film, this adaptation will take plec on Friday December 18th and Saturday December 19th at 8pm and Sunday December 20th at 2:00pm.
If family fun is what you are after, visit Ghostly Manor Thrill Center for a wonderful Christmas Light Show every evening beginning at 6pm and continuing
throughout the night with a new show every 30 minutes! Park your car, tune your radio to 99.7 FM and enjoy a free show
choreographed to your favorite festive tunes.
The athletic among us will love the Santa Hustle 5K and Half-Marathon at Cedar Point. Held on December 20th, this fun run featured thousands of Santas scurrying through the streets on Cedar Point. Every runner gets a Santa Hat and Beard and a cool Santa Hustle Dri-Fit 1/2 Zip! Eat candy and cookies along the way, dance, run and then enjoy the after-party!
Those who crave serenity and nature will take solace in a Winter Solstice Night Hike, taking place on December 22 from 8-10pm at East Sandusky Bay MetroPark – Enchanted Cottage in Sandusky. Winter will be welcomed with a guided moonlight hike – be sure to bundle up and bring good hiking footwear.
Who doesn't love a sleigh ride? The Rutherford B. Hayes Presidential Center offers horse-drawn sleigh rides from 1 to 4
p.m. December 26-31 at Spiegel Grove. Cost is only $3 per
rider.You'll be pulled along by huge Clydesdale horses. The museum will also be open for visitors.
Finally, this list wouldn't be complete without Walleye Madness at Midnight in Downtown Port Clinton. Every New Years Eve, thousands of brave souls gather in the frigid temperatures to watch a giant Walleye drop from the sky to signify the coming of the New Year. All the grown-up fun starts at 6pm, when the great music and street vendors come out to play! Pick up Wylie Walleye souvenirs, dance in the street and take part in the massive Rock, Paper, Scissors Tournament!
However you spend your holidays, we at Angel Welcome Bed and Breakfast wish you and yours a blessed and beautiful Christmas and a Happy 2016!