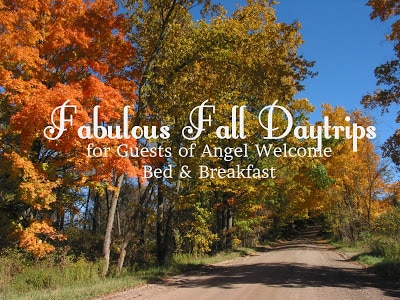 Ah, Autumn! It's finally here! The summer months have their charms, to be sure, but as Fall falls on Milan, the days become perfect for fun day trips to attractions and events near and a little bit further from Angel Welcome Bed and Breakfast.
On October 1, 2016, take a quick drive up to Norwalk (it's less than 10 minutes from the inn) for the Fall Fest at D&D Smith Winery. The festival starts at 11am and runs to 7pm, with no entry fee. This is a family-friendly event that will have food vendors, artisans with their wares, and wine tastings for $1 per taste. 27 different types of wine will be available for purchase at the event, by glass or bottle, as well as different beers.
Another fun event on October 1 is the Island Wine Festival at Put-in Bay. The lovely weather of early October makes this a great time. You can take Winery tours, out your bis in for the large silent auction, and purchase wines from Heineman Winery and Put-in-Bay Winery, among the 400 foreign and domestic wines that will be available.
A longer drive takes you to Burton, Ohio for the Fall Festival Weekends at Sunrise Farm. This is the fall-themed event you're looking for! Each Saturday and Sunday in October, enjoy delicious apple fritters (from Noon-5pm), caramel apples and pure apple cider. Pick your own pumpkin from the Pumpkin Patch, choose from 10 different varieties of apples in the farm store, along with gorgeous fall decorations, and the greenhouse for gourds, cornstalks and mums.
You'll love the nice 2 hour trip to Sugarcreek, Ohio, to see one of two fun productions at the Star Theater. "Mennonite Girls Can Cook" tells the tale of a local cooking show going to the "Big Time" after it catches the eye of a Hollywood producer. Another show, "Josiah for President" images what would happen if an Amishman won a write-in vote for President! Both shows combine laughs, faith and fun for a fabulous fall day! Make sure to purchase your tickets ahead of time.
Make sure to reserve your room at our B&B for a lovely October weekend to remember!