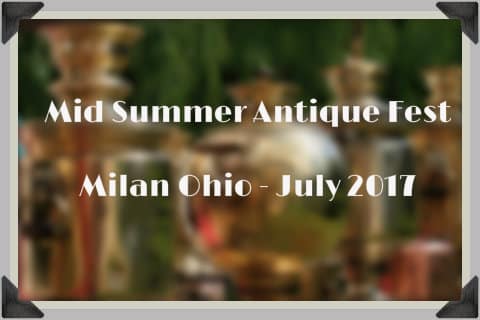 If you are a lover of antiques, have I got a weekend for you! The picturesque village of Milan, Ohio, hosts the Mid Summer Antique Fest annually on the second Sunday of July – this year, that is July 9th, the Sunday after Independence Day.
Start your antiquing escapades with a weekend at Angel Welcome Bed and Breakfast – choose from our three sumptuously-decorated rooms, and after a wonderful night's sleep, enjoy a delicious repast of home-made breakfast recipes, lovingly prepared for you by your hostess, Judy, and served at our candle-lit dining table, or in our screened outdoor gazebo, in the midst of our lovely gardens.
On Saturday, you can visit one of several antique stores in Milan – if you are an Edison fan, yo won't want to miss Sights and Sounds of Edison on Main Street – they specialize in anything having to do with Milan's most famous resident! Also on Main is Crosby's Antiques, and on Church street, Gathering Littlewares. If you're up for more antiquing, go to Norwalk, only 10 minutes' drive, to visit Mannino's On Main and the Northern Ohio Antique Mall.
On Sunday, walk on over to the village square – it's just a few minutes from the inn! Starting at 8, it will be packed with over 55 antique dealers of all kinds- and these are truly antiques – you won't find reproductions or crafts here. Admission is free, so you can save your money to spend on the fabulous finds in the dozens of booths. Old movie posters and product signs, porcelains, vintage clothing and
jewelry, Victrolas, Golden Oldie records, folk art pieces, even toys – remember that Barbie fashion styling head you always wanted? It might be waiting for you to take home!
The businesses surrounding the square will be open, too, so if you get hungry or thirsty, try Invention Restaurant, Jim's Pizza Box, or the Wonder Bar for a meal, or the Coffee Station for a beverage, all right on the Square.
Make sure to leave room in your car for the fabulous finds you will certainly be bringing home after your fun antiquing weekend in Milan, Ohio!