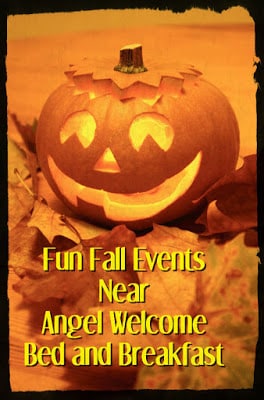 Ah, fall! The temperatures start to fall from the summer highs to lovely cool days and nights. The leaves are turning, making drives through the country a delight. It's a perfect time to take a getaway to the little village of Milan, Ohio – and here are some fun things to do in October near Angel Welcome Bed and Breakfast!
The town of Columbia Station is a nice 45 minutes drive from Milan, or a bit longer if you want to avoid the toll roads. They have some really neat events happening in October.
Rockin' R Ranch presents the Old West Pumpkin Fest – taking place on weekends in October, every Saturday and Sunday from Noon to 5pm.You'll see the "Country Kids' Show" performed live on stage
featuring costume characters and performed five times each day. Ride the Pumpkin Patch Hayride to pick and paint your own pumpkins. Walk through the Funny Fun House, visit the
Petting Farm, the pumpkin slide and much more. Enjoy the farm market,
souvenir shop and concession stands for hen you get hungry and thirsty.
Also at Rockin' R Ranch – and only for those brave souls who enjoy being scared out of their wits, is the Spooky Ranch – much more horrifying than it sounds! Considered one of the Top 13 haunted houses in the world, this is a trip to terror-town! Displays include The Famous Haunted Hayride and The Haunted Barn, Extreme Nightmares Haunted House, Monster Vision in 3-D Haunted House, and The Bloodslinger's Saloon House. You can also enjoy the bonfire, Halloween store, and outside
entertainment. Spooky Ranch is open weekends in October, every Friday and Saturday from 7pm-11:30pm, as well as Thursdays and Sundays from 7pm-9:30pm.
Stay with us and visit the festivals of your choice in Columbia Station for a delightful fall getaway!