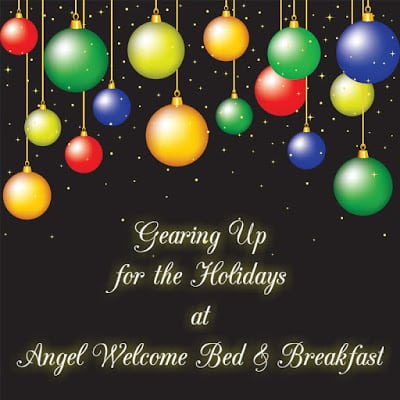 Can you believe it, we are only 10 weekends away from Christmas! And if you are like many Americans, those weekends are already starting to fill up with obligations – from family gatherings to children's activities. To quote the Cheers theme song, "Wouldn't you like to get away…"
Well, you can! At Angel Welcome Bed and Breakfast, you can plan a wonderful weekend or weekday stay to clear your head before the big holiday rush! Or, maybe even an escape in the middle of it! We've got rooms for couples looking to kindle that old flame, as well as rooms for a girlfriends' getaway – and fun events for both!
First, you arrive at Angel Welcome, in the charming village of Milan, Ohio. The house and grounds are designed for enjoyment and comfort, and you will rest easy in the hands of Bernie and Judy, who welcome you with open arms. After a great nights' sleep, you will come down at your chosen time to the breakfast dining table, to be spoiled with a delicious repast prepared with love by Judy.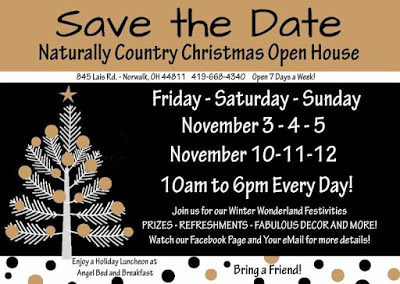 Now, it's time to get ready for fun! Head out to Naturally Country for their famous Christmas Open House. This year, the dates are November 3-5 and November 10-12. Between 10am and 6pm, you will be enchanted with the plethora of gorgeous holiday decor. Get ideas and products to decorate your own home, while enjoying refreshments and prizes.
After a nap or some quiet reading time, you'll be ready to head over to the Ohio Star Theater in Sugarcreek. The immensely popular show, Our Christmas Dinner, will be playing November 9 – December 16th. It's a fun and festive holiday show that will surely get you excited for your own merry-making!
Visit our website to learn more about the inn and the available rooms – treat yourself to a wonderful weekend away in November!