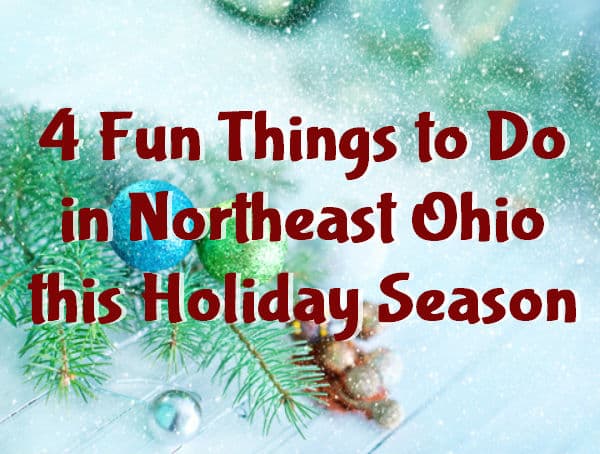 It's so exciting! We are mere weeks away from Christmas and New Year's Eve! It's almost 2018! Before we go THERE, though, we should talk about all of the great fun things to do near Milan and Angel Welcome Bed and Breakfast. We know that Northern Ohioans are a hardy bunch- a little snow won't stop us – and we welcome visitors to come and enjoy the festivities put on by our local businesses and groups.
In Huron, don't miss the Firelands Festival of Lights, on from November 24 – December 31, 2017. Head to Sawmill Creek Resort each evening from 5-10pm to see a lovely light display to really get you in the holiday mood. On selected evenings, pay just $5 per adult and $2 per child, or $12 for a family of six, for hayrides! Mrs. Claus will be at Mulligan's Pub to welcome you with warm drinks and sweet treats, and crafts for the kids, then jump on the trailer for a fun ride through the light display!
Also November 24 – December 31 is the Christmas Dancing Light Show at Ghostly Manor Thrill Center in Sandusky. The admission is free, and you don't even have to get out of your car! Tune your car radio to 99.7 FM for the accompanying music- the light show
plays every 30 minutes.
The Hayes Train Special Model Train Display will be at the Rutherford B. Hayes Presidential Library and Museums in Fremont. The actually operating model train runs through an intricate Victorian holiday
scene. Interactive buttons allow visitors to control certain aspects of the
trains' movements – it is an amazing time for the model train buff, and just may encourage new model train fans! Admission is included in the Hayes Museum ticket price (The cost is $7.50 for adults, $6.50 for seniors, and $3 for children (6-12 yrs). Open from November 24 through January 7, Monday-Saturday 9 am-5 pm, Sunday 12-5 pm (closed Christmas & New Year's Day).
Finally, for the shoppers out there, the Vermilion Arts Guild presents their Holiday Art Show and Sale. The gallery shows feature fine art, photography, jewelry, wood sculpture, ceramics, pottery, and unique hand-crafted items for unique Christmas gifts.The shows take place November 25 – November 26, December 2 – December 3, December 9 – December 10, and December 16 – December 17, from 12-4 pm at The Vermilion Arts Guild Gallery.
You will find lots of holiday merriment here in Northeastern Ohio – make your reservations now for a great time in late November and December!