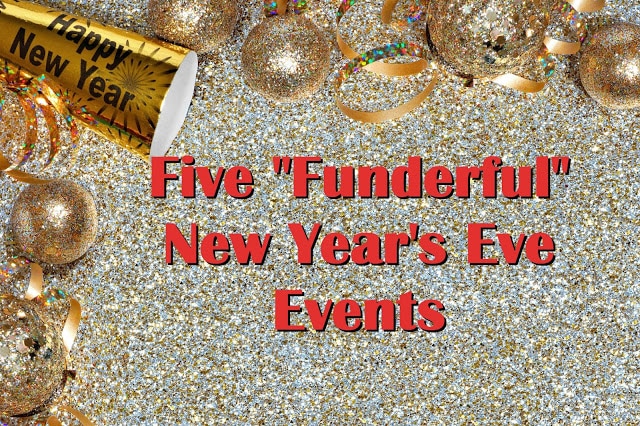 You might be asking yourself if we had spell check turned off for the title of this post, but no- we've decided to coin a new term, combining "Fun" and "Wonderful": Funderful!
New Year's Eve is always a chance to get out and have a festive time, to say good-bye to the old year and to close out the holiday season. Here are five Funderful Events to help you do just that!
The final night of the Firelands Festival of Lights will be on New Year's Eve from 5-10pm. This is perfect for families or couples who might want to be back at the inn in their jammies by midnight! There is no charge for this lovely display, but they do accept donations, which go to various non-profit organizations in the community. Find the Festival at the Sawmill Creek Resort, 400 Sawmill Creek Dr. (off US 6), Huron, OH 44839.
Lovers of history and glamor will not want to miss the New Year's Eve 1940's WWII era Big Band Hangar Dance at the Liberty Aviation Museum in Port Clinton. A live orchestra will play, heavy hors d'oeuvres, soft drinks, party favors, and a champagne toast at Midnight will be served, with a cash bar available. Come dressed for the part in your favorite vintage or reproduction clothing. Tickets may be purchased per person, couple or table.
Also in Port Clinton is the annual New Year's Eve Walleye Drop! Taking place in downtown from 3pm to 12:30am, there will be live music, children and teen activties, food trucks, fireworks and more! Brave the cold to see Wylie the 600 pound Walleye drop from the sky at the stroke of midnight!
Downtown Sandusky features not one, but TWO fireworks celebrations on New Year's Eve! The first is family fireworks at 6pm, and the Grande Fireworks Show at 11:59pm from the Jackson Street Pier. The show is sponsored by Hotel Kilbourne and Oh Taco.
Finally, at The Listening Room, 220 E. Perry St. (SR 163) in Port Clinton, music enthusiasts will enjoy New Year's Eve with Leigh Nash at 9pm. Leigh is best known from her time with the band Sixpence None the Richer. Doors open at 8pm – the $69.99 ticket price includes a two hour show, three drink tickets, a champagne toast, small plate desserts, party favors, and all taxes and gratuities.
No matter where you celebrate the New Year, we here at Angel Welcome Bed and Breakfast wish you the best and most FUNDERFUL 2018!