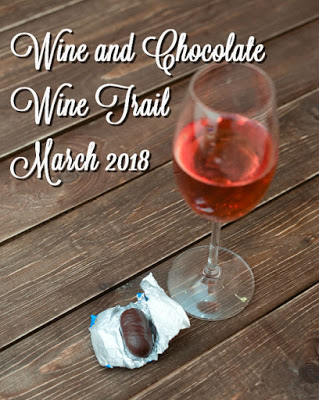 Lovers of Wine and Chocolate are in for a big treat in early March! Put on by Wineries on the Lake Erie Shores & Islands and the V.I.N.O Wine Trails in northwest Ohio, the Wine and Chocolate Wine Trail is a great time for a day-long trek or a four day, two-weekend extravaganza!
A dozen different wineries are taking part (see map, below) in the wine trail. At each stop, you will relish wine samples and chocolate nibbles, then move on to the next spot. At your pre-selected winery, you will receive a special chocolate trail gift surprise and a souvenir wine glass. This event is great for couples, family groups, girlfriends' weekends or whatever people you like to travel and drink wine with! If you decide to go fancy and hire a bus or car, with more than 6 people, make sure to notify the wineries ahead of time so they will be better able to accommodate your group.
The cost is $40 each for couples or $50 per person. Couples share the the trail gift, but receive their own glass and samples. You don't have to visit all eleven wineries in one day – you can spread the fun over all four days, if you like!
The way it works is that you buy your tickets online, then you decide how you want to travel the wine trail. When you purchase your tickets, you'll be asked to type in the name of the winery where you want to pick up your trail gift and souvenir wine glass, so take a look at the map before you decide.
Angel Welcome Bed & Breakfast is a great home base for a fun wine weekend! Check our availability and male your reservations early so you don't miss out!