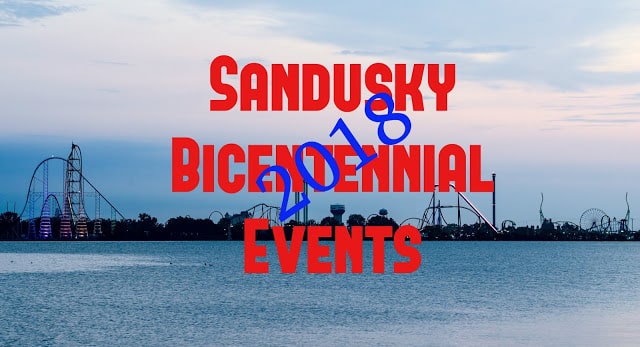 The city of Sandusky, Ohio, has a long history – 200 years, in fact!
Sandusky was established upon the shores of Lake Erie in 1818. The name Sandusky is thought to have come from the Wyandot words, saundustee, meaning "water" or andusti, "cold water". It's been mentioned on maps and in travelogues as far back as 1718. Sandusky is well-known as a stop on the Underground Railroad, where escaped enslaved people could make their way into Canada, and freedom. During Prohibition, smugglers used Sandusky as a port to bring in illegal liquor from Canada!
These days, Sandusky is known for water sports and recreation. Thousands of people come to the city every year to enjoy Cedar Point, an amusement park built right on the banks of the lake, known as the "Roller Coaster Capital of the World", boasting 14 roller coasters which at different times have held the titles of longest, fastest, and tallest steel coasters in the US.
Several events are planned to celebrate the city's Bicentennial, and here are a few:
Bicentennial Ball
A look back at the beauty of the past – held in the Cedar Point Ballroom. This black-tie event will feature cocktails and bands playing old standards to today's hits.
April 28, 2018 @ 7:00 pm – 12:00 am
Cedar Point Ballroom
1 Cedar Point Dr
Sandusky, OH 44870
Bicentennial Banter
A series of free, fun historical discussions held on Wednesday evenings at the Sandusky State Theater. Check the site for dates.
Sandusky State Theatre
107 Columbus Ave
Sandusky, OH 44870
Walking Tours
Learn about the architecture and former life of Sandusky's historic buildings and parks in the fresh air! Free, guided tours will be led by Erie County Historical Society volunteers and all begin at 6 p.m, starting May 23rd at the corner of Columbus Avenue and Washington Row, at the popcorn wagon
May 23, 2018 at 6:00 pm
Popcorn Wagon
E Washington Row & Columbus Ave
Sandusky, OH 44870
If you've ever wanted to visit Northern Ohio, this is the year! Keep an eye on this blog for future fun events occurring all year long – and don't forget to make your reservations to stay with us at Angel Welcome Bed and Breakfast!