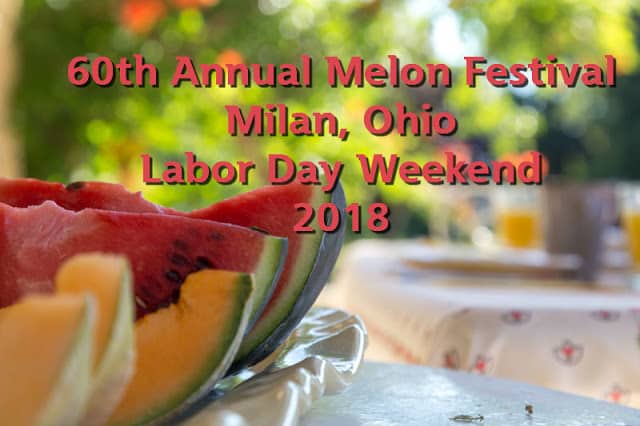 Milan, Ohio is know as the birthplace of Thomas Edison AND as the location for the annual Milan Melon Festival! A celebration of Watermelon and Canteloupe, this fun, family-friendly fest takes place in the Milan Village Square on September 1-3, 2018 – Labor Day weekend! We take our melons seriously in Milan, and it's said that the best melons come only from Milan! If you weren't aware, Muskmelon is just another name for the canteloupe.
It's named so because these sweet delights originated in Persia, where
musk is a word for perfume – according to ancient texts, they "both smelleth and eateth as if the fruit were steeped in Muske".
This wonderful festival has something for everyone. The whole thing starts on Saturday morning with St. Anthony's Pancake Breakfast at 8am. Then you've got the car show, various contests, and as always, entertaining musical acts, and craft and food vendors and the Melon Queen contest.
The fun continues on Sunday, with the Fireman's Chicken BBQ at the Firehouse, and a big event, the Grand Parade at 2pm – followed by concerts and merriment all day long, including all kinds of watermelon themed contests, like a watermelon eating contest!.
On the final day, Monday, the Fun Run starts at 8:30am, followed by the 5k at 9, and then the fun continues until 6pm.
All of that is really great, but for those in the know, there is one main reason to attend the Melon Festival, and that is to get the amazing and special, only available at this time of year, Muskmelon Ice Cream and Watermelon Sherbet. It's made by a local creamery, Tuft's, and can only be gotten at the festival. It sells out every year. The best way to enjoy this magical treat is to get a scoop of each in a canteloupe bowl. It's one-of-a-kind! How can the thousands of people from all around who come just to get a teaste be wrong?
When you're in town for the festival, the very best place to stay is Angel Welcome Bed & Breakfast, if we do say so ourselves! You'll have a comfortable retreat after a fun day at the festival, and a delicious, homemade breakfast to send you on your way in the morning!