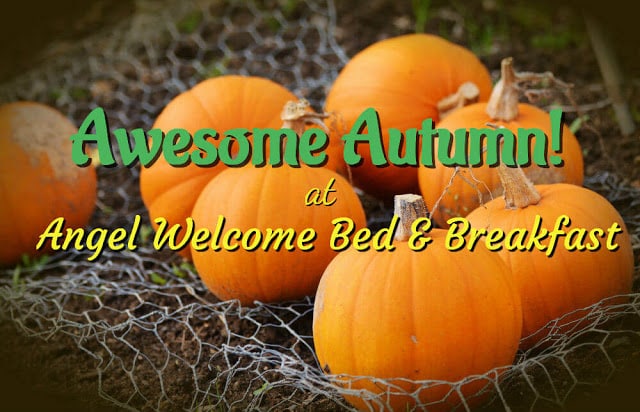 It's the time of year for pumpkins and fall foliage, and maybe a few spooky spirits, as well! Autumn is a great time to visit Milan, and stay with us at Angel Welcome Bed and Breakfast! Here are a few fun events going on near the inn!
Pumpkin Fest in Huron
Only 13 minutes from Milan, Huron hosts the family-friendly Pumpkin Fest at the Huron Boat Basin on Main Street. This is a free event that has games, entertainment, food and kid's activities, as well as a Pumpkin Drop at 2:30pm! October 13th, 11am-5pm
Oktoberfest at Put-in-Bay
If you would like to take a fun ferry ride to a festive event, head out to Put-in-Bay for their Oktoberfest Celebration. Held October 13th from 11am-7pm and October 14 from Noon-5pm,
the fest will feature German food, hot spiced wine and cold beer, live polka and German
music, German dancers, souvenir apparel, souvenir beer glasses for sale,
and great raffle items.
Cruisin on the Square in MilanRight here in Milan, on October 16th, 23rd and 30th – head down to the village square to see up to 150 classic cars with a Farmers Market, music and door prizes.
DarkenWood Haunt in Vermilion
If scary stuff is what you crave, drive 22 short minutes to Vermilion's Historic Old Schoolhouse for an interactive haunted experience. This all-volunteer event is open every Friday and Saturday in October from 7-11pm. Cost to enter is $5 per person.
Apple Peak at Quarry Hill Orchards in Berlin HeightsVisit a real orchard for a "true taste of Autmn" on October 20th-21st from 10am-6pm. There will be wagon rides, music, hiking, local food and drink, vendors, storytellers, and much more! Don't forget to pick some apples to bring home!
There are so many fun things to do around Autumn in this area! Visit us for a great home base for your adventures!