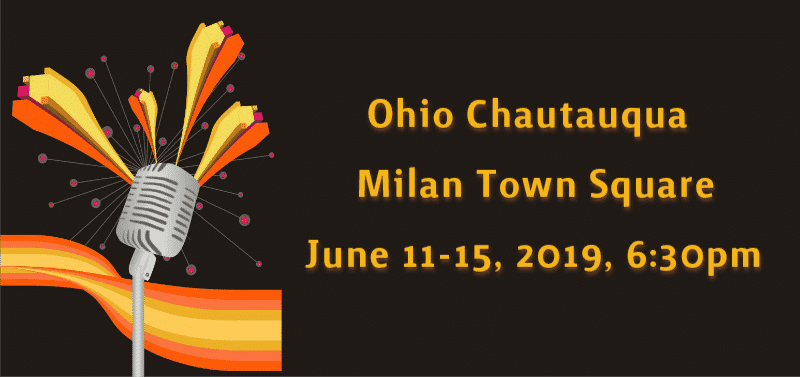 You may hear the word Chautauqua and think of a place – but Chautauqua is also an idea – an educational troupe who travel the country in the summertime, bringing a novel form of entertainment to the people of America. The roots are old – started in 1874 on the shores of Chautauqua Lake in New York, an adult educational summer camp, if you will. Of it, Teddy Roosevelt said, "Chautauqua is the most American thing in America."
Ohio Chautauqua will visit the Milan Town Square June 11-15, 2019. Live music starts the evening off at 6:30, followed by speakers each night, prortraying famous Americans.
Tuesday, June 11th will feature Susan Marie Frontczak as Erma Bombeck, a humorist known for her newspaper clumns and such wonderful books as "The Grass is Always Greener Over the Septic Tank".
On Wednesday, June 12th, Karen Vorunch will portray legendary French chef Julia Child, author and television star, predecessor of all of those cooking shows and channels today, in her own inimitable style.
Thursday, June 13th, distinguished scholar Dr. J Holmes Armstead will appear as Benjamin O Davis, Jr., the commander of the famed Tuskeegee Airmen of Wordl War II, and the first African-American general in the US Air Force.
Friday, June 14th will find Fred Blanco characterizing acclaimed civil rights activist and co-founder of United Farm Workers, Cesar Chavez, covering Chavez' fight for humane treatment and working conditions for migrant farm workers.
Finally, on June 15th, Saturday, Robert F Kennedy will be brought to life by Jeremy Meier. Cut short by assasinatation, Kennedy's short life was full of accomplishments, from serving in the Navy during WWII, A US Senator and US Attorney General.
Stay the week and attend any or all of these family-friendly and stirring presentations to learn more about these Great Americans and how they affected the way the U.S.A works today.