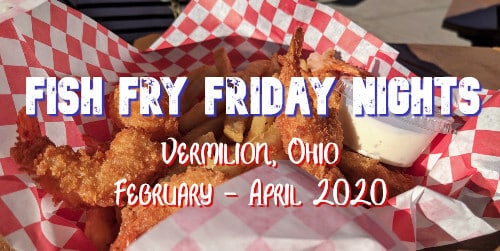 We've got quite the fun event for those who are staying with us over a Friday evening! For eight Friday nights in a row, the Vermilion On The Lake Community Center volunteers are putting on their annual Lake Perch Fish Fry, to benefit the clubhouse restoration.
Dinner is from 5:30-8pm – you can have a Perch Sandwich Platter for $12, or a Perch, Shrimp, Chicken or Combo (choice of 2) Platter for $16. All platters include cole slaw, french fries or macaroni and cheese, a roll with butter, coffee and dessert. You can also purchase pop, or bring your own beer. The Lake Erie Yellow Perch is not fried in peanut oil, for those with allergy concerns.
This isn't just dinner though!
At 7pm, the music and dancing starts! Each night will have a DJ spinning the tunes so you can dance the night away – at least until 8:30!
The Lenten Fish Fry will take place the following dates:
February 28, 2020
March 6, 2020
March 13, 2020
March 27, 2020
April 3, 2020
April 10, 2020
And a special BONUS night on April 17, 2020!
Tickets can be purchased at the door, or call Barb at 440-967-9504. The locaton is 3780 Edgewater Blvd,Vermilion, Ohio, 44089. Vermilion is an easy 22 or so mniute drive from Angel Welcome Bed and Breakfast – you can have some great food and dancing, all while benefitting a worthy cause!