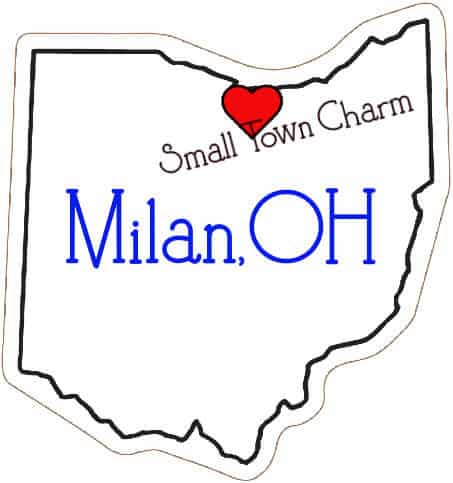 If you need to get away to a place that reminds you of the way you grew up in a small town, you will love Milan, Ohio! With a population of less than 1500, Milan is the kind of place that reminds you of the way things used to be.
We have a beautiful Town Square, where great events are held each year, like the insanely popular Milan Melon Festival, Cruisin' on the Square and the Mid-Summer Antiques Fest. When a great event isn't being held, it's a wonderful place to stroll, read a book, or just sit and enjoy nature.
We also have history! Along with the Thomas Edison Birthplace Museum and the Milan Historical Museum, visit our original Carnegie Library, the Milan Public Library and Local History Room, built in 1912 with a grant of $8000 from the Carnegie Library Program.
All around the above-mentioned town Square, you will find wonderful shopping opportunities, and great places to eat. One such spot is the Milan Wine Post, a very popular and well-reviewed spot to have a drink and enjoy some live music. We also have a few lovely antique and fun shops to peruse. If you want to travel a mile or so out of town, you can visit Naturally Country, a wonderful home-decor shop that just happens to be having their Spring Open House from today until March 22!
When you've had your fuill of small-town charm, return to Angel Welcome Bed & Breakfast for a great night's sleep, followed by a hearty breakfast to send you on your way – make a weekend getaway of it, and rediscover the appeal of small-towm America!